Sustainable OneWorld Technologies C.I.C.
Our History
Dr John Mullett, founder member of Sustainable OneWorld Technologies, has been involved in the organic waste industry for over 30 years. He has extensive experience in organic waste treatment in both the UK and worldwide including Europe, India and Thailand. His career started in the operation of waste treatment facilities and he is now a leading designer of value engineered organic waste treatment facilities.
SOWTech members have a history of developing innovative solutions to issues and problems pertaining to the waste industry. These have been in the areas of anaerobic digestion, in-vessel composting, air management, odour control and algae culture. Many of these innovations are now in use in full-sized commercial facilities.
In 2011, the Comic Relief programme where TV personalities, led by Lenny Henry, spent a week in the slums of Kibera on the outskirts of Nairobi, Kenya was broadcast. Watching this programme confirmed Dr Mullett's resolve to use his knowledge and expertise to help others in such situations. His vision was to provide such communities with anaerobic digesters. These would be able to take organic waste such as human waste and waste from food preparation, to digest them in small communal digesters and produce biogas that could then be used as a fuel for such necessary activities as cooking. The digesters could be run as a community business with people being paid to collect and deliver the waste to the digester and then sell the gas back to the community. The liquid digestate produced by the breakdown of the material could be used as a fertiliser for agricultural land if the location was appropriate.
Since that time we have been looking into ways to reduce the cost of building digesters, making them easy to use and to remove the need for external power. When involved with another project in the UK he became acquainted with Butyl Products Ltd. On seeing the applications of butyl rubber in the field of liquid storage he experimented with using butyl rubber as the digester bodies. Further discussions with Butyl Products resulted in the realisation that they had similar aims and ethics.
We have now set up Sustainable OneWorld Technologies (SOWTech) specifically to design and develop systems to provide a sustainable source of fuel for cooking and other domestic activities. The fuel is made from waste materials: human and animal wastes, vegetable waste and the waste produced during food preparation.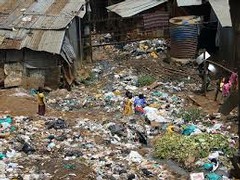 The catalyst for change
The present
About us
The future
We are now working with UK and international charities to supply Flexigesters into communities in Africa and India.
We are also working with travel companies who practice Responsible Tourism. Companies who put something back into the villages in rural communities where western tourist stay and visit.
We look forward to being able to design and supply more sanitation and waste facilities which can really change the lives of people using them.
If you would like to help us change lives please contact us.