Sustainable OneWorld Technologies C.I.C.
I hope that you are all keeping well and safe in this time of uncertainty due to the Coronavirus pandemic.
The MECS e-cookstove project has come to an end and we have submitted our final report. We hope to make the results of the project available soon on our website. We have produced a short video about it that you can see on YouTube at https://youtu.be/JYjlsJHj0IY
One of the final parts of the project was another trip to Malawi to build the prototype out there. John flew out at the end of February with some of the e-cook stove components in his luggage. As it included bags of white powder (the phase-change material, erythritol) and the electronics for the power optimisation device he hoped that he didn't get stopped at customs. I'm pleased to report that everything arrived safely.
Construction drawings had been sent to Aquaid Lifeline in Malawi before the trip and they had made the components of the e-cook stove structure so once John arrived it just had to be assembled.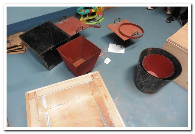 As with any prototype things didn't go to plan but that is all part of the development process and it enabled improvements to be made. One thing that was less easy to improve was the weather. It was the rainy season and most days were overcast with little sun which was a problem when trying to use solar power.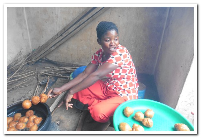 However there were a lot of positives from the visit. The solar powered heater plate was used to cook maize porridge by Beata, one of the locals. Beata makes and sells mandasi, a type of donut. She fries the dough mixture in a pan filled with oil. John visited her home where she does this and helped her to cook some. One adaptation of the stove could be to turn it into a deep fat fryer to make street food such as mandasi.
Another contact made was with the people from Mary's Meals. Mary's Meals is a UK charity that provide hot meals to primary school age children around the world. In Malawi they provide what is sometimes the only meal to a third of all primary school children. Our e-cook stove could be used to preheat the water used to make the porridge which would save many tonnes of wood. It is estimated that in Malawi they heat 260 tonnes of water everyday to make the meals, all done using wood fuel.
There was a lot of local interest in the e-cook stove. One young man, who was Aquaid's top pupil last year, was very keen to learn all about the stove and the electronics connected with it. He spoke and understood English well and, after John had explained it all to him, he was able to tell others about it in Chichewa, the local language.
Although the grant funding has now finished we are hoping to continue development work on the e-cook stove.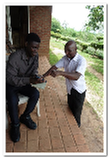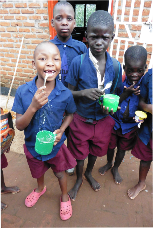 In this time of trial and uncertainty across the world I thought I would give you news about SOWTech and what we have been doing. Firstly we are all fit and well. John was ill with COVID-19 at the start of the pandemic but is fully recovered now.
Work has continued on developing solar cooking and heating trying to improve the efficiency and effectiveness of it. We have also been looking into solar pumping and ways of heating Flexigesters to aid the digestion process. POD development has also continued. This is our Power Optimisation Device that allows the energy from solar panels to be used directly without the use of energy storage batteries.
We have also made an exciting new alliance with Moringa Miracles Ltd (MML). MML are a Malawi registered organisation who are working with over 20,000 smallholders in southern Malawi and are bringing them together into cooperatives to grow, process and sell their moringa leaves. The aim is to enable the potential development of a circular economy where donor/aid money is spent internally in Malawi through the purchase of smallholder moringa to support feeding programmes.
I don't know about you but I had never heard of moringa so here is some information about it. To start with it is a tree, Moringa oleifera is its scientific name nut it is also called the drumstick tree, the miracle tree, the ben oil tree, or the horseradish tree. It is native to India but also grows in Africa. It has been used for centuries as a medicinal plant but has recently become very popular as a nutritional supplement. You can find it in the western world in health food shops. The leaves are the most nutritional part. It contains, amongst other things, vitamins A, B1, B2, B3, B6 and C, and essential minerals such as calcium, potassium and iron. The MML website has links to scientific papers on the nutritional and medicinal benefits of moringa. The powdered dried leaves are already being used by organisations and governments in their feeding programme in countries such as Kenya. More over as it is a tree its leaves can be harvested all year round.
So where do MML and SOWTech come into the moringa story. MML want to be able to help the smallholders sell their moringa leaves on the international market but to do that the dried moringa leaf needs to be dried uniformly and hygienically. SOWTech are looking at working with MML to develop processing hubs where the leaves can be dried under cover by fans powered by direct use solar using our PODs. The hubs would be places where the leaves are not only dried but they can also be stored and milled ready for sale. We are applying for grants to help finance this exciting project and hope to be able to start the proof of concept work early next year. Check out MML's website for more details of what they do.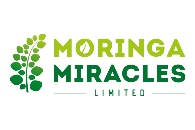 It seems so long since we gave you an update about SOWTech. We have not been idle over the past few months. We have been applying for grants to further the eCookstove project. Unfortunately for us, and many other people, the cuts in UK aid has meant that many grants are now not being funded and have been withdrawn. Despite being unsuccessful in raising any money we have continued to work on the Power Optimisation Devices (POD's) connected to simple heaters for heating water both in the domestic cooking situation and also for the heating of anaerobic digesters to improve performance.

We have also been revamping the resources page of our website by reordering it and adding more content, especially in the form of videos. This started when the training workshops that John was involved with for the Aid Corps of the Swiss Development Agency had to be moved online due to Covid. As he couldn't present his training in person he had to produce videos for them. These were "An introduction to anaerobic digestion" and "Anaerobic digestion in faecal sludge management in Cox's Bazar". Links to both can now be found on our website on the Anaerobic digestion resources page.

Our next videos were as a result of working with a group of students from the chemistry department at Cambridge University. Our contact Sandile Mtetwa from Zimbabwe is studying in the department and has coordinated a "sandpit" of students from a number of different chemistry backgrounds. They are united by a desire to work on a project outside of their normal study area that could make a practical difference to low income economies. She has asked us to give them practical advice and ideas. One of the topics John suggested that they look at was using microbial electrolysis cells (MECs) to improve the performance of anaerobic digesters. So what has this got to do with videos? We needed a way of introducing ourselves and our credentials. We realised that this sort of information was needed by anyone and everyone we wanted to work with. I know that when we hear of someone new and we don't know anything about them, the first thing we do is Google them to see what we can find. Hence the next set of videos. One is about us as the team of SOWTech people, one is about the areas we work in with examples of what we have achieved so far and the third one is trying to explain our approach to sustainable development and how it differs from the typical "herd thinking" that is often found in our sector.

These are now up on YouTube with links from the About SOWTech resource page. Why not have a look at them – you might find out something new about us that you didn't know before.