Sustainable OneWorld Technologies C.I.C.
Sustainable OneWorld Technologies (SOWTech) has just been awarded the WASH Innovation Award at the International Society for Neglected Tropical Diseases (ISNTD) annual Water Conference.
John accepted the award on behalf of SOWTech and received a framed certificate. The citation for our award reads:
In recognition for outstanding innovation and achievement in water & sanitation with significant impact on Neglected Tropical Diseases and diseases of poverty. This award recognises for SOWTech:
• innovation in waste management for humanitarian and community health
• the measurable impact on health and economic development
• the highly collaborative approach
ISNTD held its annual Water Conference in the National History Museum, London on 23 November 2017. This conference focuses on how water, sanitation and hygiene (WASH) can contribute to better health, particularly with regards to neglected tropical diseases (NTDs). It attracts speakers and delegates from many organisations and disciplines.
As part of the conference the society presents six awards for achievements in areas connected with WASH and NTD's. These include awards for research, community engagement, data, behaviour change, education and the WASH innovation Award. The WASH Innovation Award is for innovations in the field of Water, Sanitation and Hygiene with proven or potential significant impact on the control, treatment or prevalence of diseases of poverty, with a preferred focus on neglected tropical diseases as listed by the World Health Organisation.
SOWTech are proud and honoured to receive the award and would like to thank the conference organisers and our partners Butyl Products Group for making this possible.
The Flexigester that was sent to Elshadai Children's village in Ethiopia has finally been installed and is starting to produce biogas. It has been a long wait for both us here at SOWTech but also for the Trustees of FECIN (Friends of Ethiopian Children in Need). We first started to talk to them in January 2015. The Flexigester was finally shipped in July 2016 and in June 2017 Alem and Tesfai were able to begin the installation. SOWTech were pleased to be able to help them with the questions and queries that they had during the installation process.
Part of the delay in the installation is that Elshadai and Ethiopia have been beset with many problems that have had to take priority over the Flexigester. The village was experiencing difficulties with its financial resources, the Internet, erratic at the best of times, was shut down throughout the country for over two weeks, (they think that this was to prevent the hacking of school exam questions which happened last year) and then the weather has caused huge problems.
Hailstorms in July were followed by unusually heavy rains which caused severe flooding in the village for two days. No one was hurt but it was quite disturbing for the children and members of the staff. A lot of the crops, especially the fruit and vegetables were completely devastated by the hail and rain. This means that not only will there be no produce to feed the children but also they have lost an important income from the selling of the produce in the local towns. The EOS-UK website has photographs of the devastation and a description of the damage done.
Despite all of this Alem and his team have continued to install the Flexigester. They have built a shelter over it to protect it from damage by animals, children and storms.
Slurry from an old biogas plant was used to activate the Flexigester and it is now being fed with animal dung mixed with water or animal urine.
The Flexigester was visited by representatives from governments office of agriculture, not-for-profit organisations and agricultural colleges as well as farmers when they were on a tour of the Village. They were all impressed with the Flexigester.
We hope to be able to work further with Alem and Tesfai and make their Flexigester an exemplar in Ethiopia.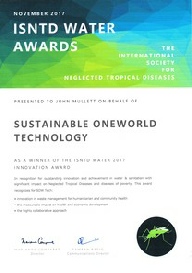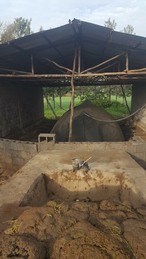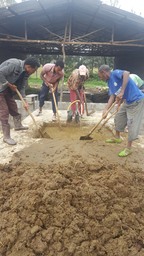 Another year has gone by and SOWTech continues to try and help those who need improved sanitation, sustainable fertilisers for their crops and ways to prevent the spread of disease.
We have recently been in communication with a number of branches of the Red Cross regarding sanitation in emergency situations. John has provided consultancy on mobile sewage treatment plants and a new type of screen for faecal sludge management, and we have provided a Flexigester for evaluation as part of a faecal sludge management system.
Another focus of our time this year has been on "supported local manufacture" (SLM). We believe that although selling ready made products from the UK has its place, ultimately these products need to be able to be made locally in the country of use. We have therefore developed new range of products that use materials and methods which are compatible with the concept of supported local manufacture. John recently gave a talk at the Institute of Neglected Tropical Diseases (ISNTD) Water conference on the SLM concept entitled 'What needs to change to improve the "rate of change" in water and sanitation'. The talk was well received and I was hoping to be able to give you a link to the talk on YouTube but it's not up yet.
As part of looking at SLM we have been thinking about other related products. One of John's vivid memories from a previous trip to Uganda was standing in the pouring rain, watching it run off the roof onto the ground whilst the women of the household had to walk down to the river at the bottom of the hill to collect water for use in the household. The house had no gutters as ours do and the explanation given was that guttering was too difficult to fit to corrugated tin roofs and the water containers we too small to be of much use. So with this very much in John's mind, we have been designing flexible gutters and large storage tanks/reservoirs that can collect the water in the rainy season so it can be used for irrigation, washing etc in the dry season. We are hoping to trial these ​in Africa next year.